Working effectively in small teams can be hard -

but it doesn't have to be.

The Working Effectively in Small Teams program is a remote learning experience designed to quickly and efficiently teach people the skills they need to be effective team members and leaders. It consists of three components: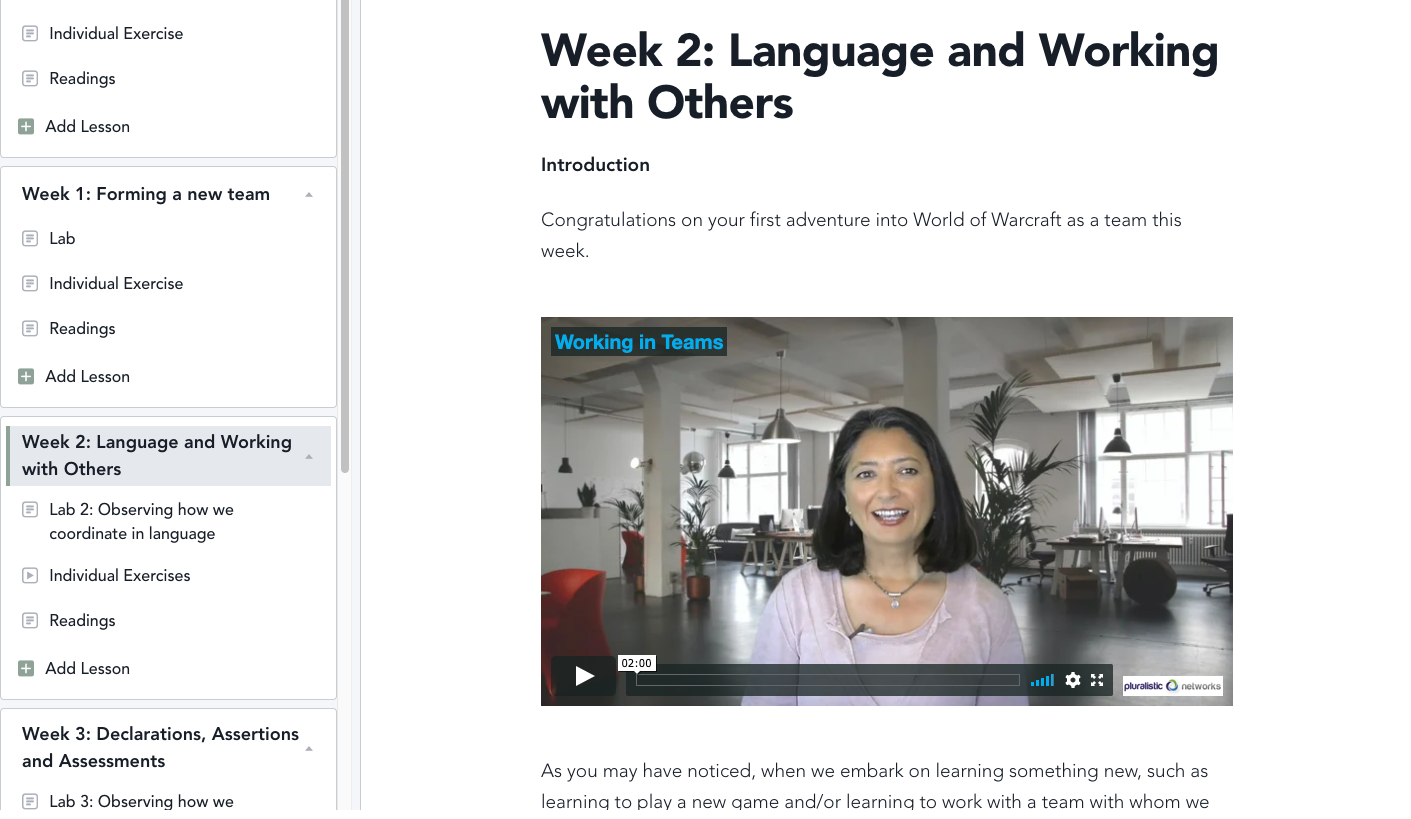 1. Online training
Honed through our work with hundreds of companies and universities, the WEST program is made up of a series of self-paced training modules. Each module consists of a number of carefully crafted videos and guided readings. Together, they cover the essential skills required to work effectively in teams.
2. Virtual learning labs
People learn best by practicing. The WEST program leverages massively multiplayer online role-playing games (MMORPGs) to conduct virtual learning labs where teams can practice their new skills.

Participants are broken into small groups and given virtual exercises to complete together, online, as a team.
Many other programs I've participated in give you the theory, but leave it to you to apply what you've learned in the real world... With WEST, we were able to practice our learning in a safe environment that was realistic enough to produce real learning, but where real-life consequences were minimized. I strongly recommend this program to any individual or team that wants to increase their effectiveness at producing competitive outcomes in a world that's moving increasingly faster, and that requires us to coordinate more and more with people who do not share our specific cultural backgrounds and values.
David Hassell
CEO, 15Five
3. An on-demand guide
Each participant in the course will be given access to the
Mood Navigator
 app, an on demand resource to help navigate restrictive moods that commonly emerge in teams –– like resignation, distrust and overwhelm –– when they arise, and cultivate expansive moods –– like ambition, resolution, and trust.
Here's what some of our customers have written about WEST:
Having spent more than 25 years in the field of training and education, both corporate and public K-12, I have never seen or participated in a learning experience more powerful than [this] course. The course has the ability to dramatically enhance the learner's ability to produce meaningful results as a team member and as a team leader. Not to mention, the course was great fun.
Douglas Bissonette
Superintendent of Schools
WEST is a game changer. [Throughout] the program, you deal with committed professionals from the Pluralistic team that can guide you through the symbolic dungeons on your quest to 'learn to learn' and 'trust to trust.'"
Rossana Fuentes-Berain
Journalist, Professor, and former World Economic Forum fellow
The ability to collaborate effectively within teams and across departmental and institutional boundaries is fundamental to my work; my participation in this course has significantly advanced my ability to do this well. I recommend this course to any doctor - or to anyone that has to work in teams.
Dr. Cathleen M. Gould
Psychiatrist in Charge
There is no question that I would recommend this course as I don't see anyone coming away from this course without having learned and realizing that they are a different person. If you think you know how to lead small teams, or you want to learn, this is the course for you.
George West
Executive Coach
This is a fantastic course that has changed how I lead and the results I'm getting as a leader as well as how I engage with my family, community and world. My only regret is not having done it sooner.
Laura Buska
Director (Delivery Management), Microsoft
In the beginning, it was humbling and painful. In the end, the knowledge takeaway on myself, as well as on leadership/coordinating action, was worth every cent and time invested.
Eric Williams
Founder, CEO (and former NFL player)
Frequently asked questions
How is WEST delivered in a large company?
We start with a pilot project to train a small number of employees to prove the value of the program. As part of this pilot project, we work closely with the company's learning and development team to "train the trainer", so that the company's own team can efficiently and cost effectively scale up the program.

How is WEST delivered in a university setting?
Universities can include the course as a module of an existing course or as a stand-alone, for credit course. Members of Pluralistic Networks' teams will work with university sponsors to train TAs for the virtual learning labs component of the course.

I'm a coach with corporate customers, can I deliver WEST to my customers?
Yes. The Pluralistic team can train and certify you to deliver the WEST course to your customers.

How is WEST priced?
There is a fee per course participant, plus a one-time fee for the initial "train the trainer". Discount tiers are available for high volumes.